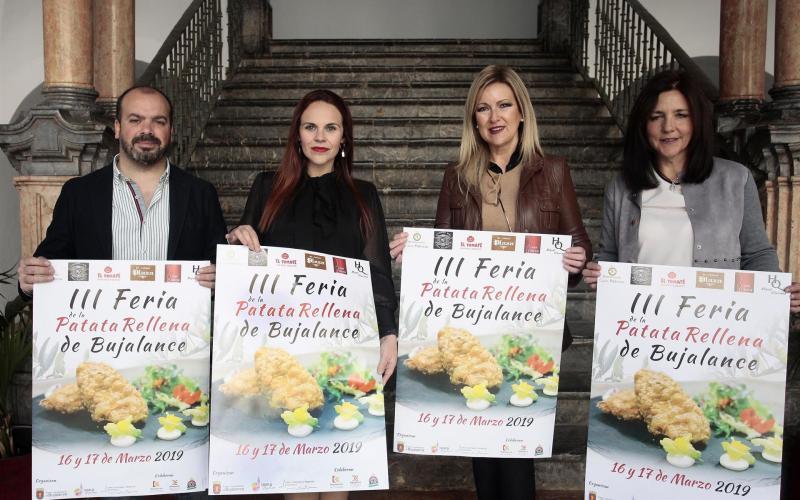 The third edition of the Bujalance Stuffed Potato Fair it's here. The days And March 16 17 This event is celebrated in the Cordovan town whose star is the typical product of its gastronomy. Thus, the potato will be the protagonist with its presentation by different restaurants. Each one will elaborate delicious stuffed potatoes, normally of meat pork or beef, with spices and garlic.
This will be the Bujalance 2019 Stuffed Potato Fair
The municipality of bujalance It is located in the region of Upper Guadalquivir, within the province of Cordova. The gastronomic culture of Bujalanceña is based mainly on the stuffed potato. However, crumbs with torreznosplatforms, cooked and that cholondros (tenderloin in almond sauce). Or the lamb to honey, among other typical dishes.
Now, in this month of March, one of the most particular events of the town is celebrated: the Bujalance Stuffed Potato Fair. A date that celebrates its third anniversary and that brings together gastronomy, culture and leisure. It serves to promote one of the great products of the culinary world, but in a different way. The people from buljalance make it together with another gastronomic attraction of the land: the oil.
Hence this Bujalance Stuffed Potato Fair also promote, in parallel, the quality of your 'liquid gold'. That is what the mayor of the municipality, elena alba, in the presentation of the poster. This event "aims to promote the economic development of local businesses, gastronomy, olive oil and local tourism."

Preparation of the stuffed potato and other activities
The restaurants that will participate in preparing their own Stuffed potatoes will Patricio House, El Tomate and Casa Villena. Also the bars Palomares, Plaza and the Hospedería La Querencia.
In this Bujalance Stuffed Potato Fair you will be able to taste a product cooked in abundant oil, battered with flour and egg. Inside, the potato explodes in flavor with the mince which includes, accompanied by parsley and garlic.
Along with the tasting of this delicacy, at the fair there will be musical activities, contests, children's attractions and routes. Likewise, guided tours will be carried out at the Castle Alcazaba and Interpretation Center of the Olive Tree and Oil.