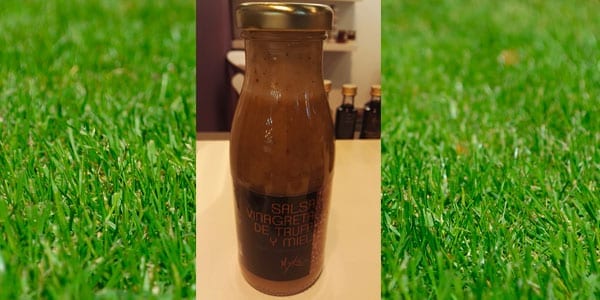 In Gourmets Hall 2017, which is celebrated these days in Madrid, the growing use of truffle on many products. This is the case of a vinaigrette. The novelty with its truffle vinaigrette The Soria company brings it to us Mykes gourmet.
Although this company makes many other products with the common ingredient truffle (tuber melanosporum), this time he has launched a very special and specific one. We present you this high quality vinaigrette, like everything it sells Mykes.
A very special and quality truffle vinaigrette
La gourmet Mykes vinaigrette is a vinaigrette made with olive oil extra virgin arbequina, with vinegars of Jerez and Modena. Also add holm oak honey as well as the truffle itself and its juice. Among all these ingredients, a liquid with a very good emulsion and an exceptional balance is achieved.
It can be paired with many dishes, from fish and seafood to meats, including salads. The truffle vinaigrette It gives all these dishes a very special touch, since it is a soft one and allows you to experiment with other recipes. Likewise and even for the decoration and presentation of dishes, this complement is perfect. Do you dare to try it at your next meal?
If so, the company will market this particular vinaigrette in 230 gram presentations. It will be in stores gourmet and in your own store online. You can start preparing your order if you want to have it in your kitchen as soon as possible. Thus, you will be able to experiment with it in no time.
Other truffle products from this company
Cheese and cream cheese, butter, oils, sauces, dehydrated mushrooms, honeys, jam, chocolate and even special salts. All these products from Mykés Gourmet they have in the truffle The principal ingredient. In addition, they also market gifts in the form of batches for companies or other organizations.