There are things that cannot be eaten every day, but if you have a craving and on top of that I tell you that it can be done at home and in a slightly healthier way, why not treat ourselves? Today we bring you a recipe of those that you love or hate… kebab pizza.
Kebab, better at home?
The kebab is a international success. In recent years, this "junk" food has been competing with large chains of fast food Like hamburgers or pizzerias. After a party, at an informal dinner with friends or even a day when you don't feel like cooking, the kebab is always there to make it easier for you. But how healthy is kebab meat?
The kebab has a long tradition in Middle East. It is a very spiced meat (with cumin, oregano, coriander, turmeric, paprika, nutmeg, cayenne…) Initially, the The main ingredient of the kebab was lamb., but the reality is that at present it has been replaced by meats cheaper and dubious quality. That is why, if you have the opportunity to do it at home, all the better. Mercadona has recently released a kebab meat which has become very famous on social networks not only for its delicious flavor, but also because it provides more nutrients and is healthier than other kebab meats.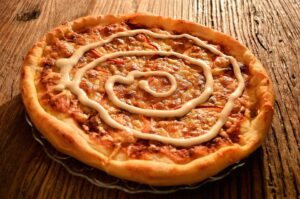 Healthy Kebab Pizza Recipe
For our kebab pizza we will need:
Mass:
400

grams

whole wheat flour

200

milliliters

warm water

2

spoonfuls

olive oil

15

grams

fresh yeast

1/2

spoonful

shawl
The filling:
1

tomato

1/2

onion

Fried tomato
Mozarella cheese
Oregano
100 grams of kebab meat in thin slices
The sauce:
Greek yogurt (

250 g)

1 garlic clove

Half a lemon

Ground black pepper (one level tablespoon)

Salt (one level tablespoon)
First we take a big bowl and pour the oil, warm water and yeast. Mix and add flour and salt. We stir again until there is a homogeneous mixture. We knead with our hands for about 5 minutes y let rest the dough for an hour.
Once the dough has rested, we will put it on the counter with a little flour so that it does not stick and we will shape it. We cut into thinly slice the tomato and we extend a layer of tomato on the basis of the pizza making sure that it is well distributed. On top we put a layer of mozarella cheese and on it we distribute the meat and the tomato slices. We sprinkle the oregano and spices that we like the most.
Lastly, for the yogurt sauce, we will pour into a bowl the yogurts, we will grate the garlic, we will add the juice of half a lemon, salt and black pepper.
Finally, we bake the pizza at 180º about 8 minutes and we will serve it with the yogurt sauce on top.