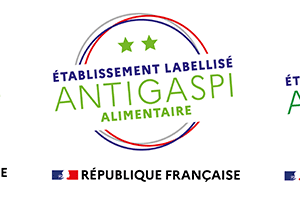 This week the French national anti-food waste label was presented. The seal is an initiative of the Ministry of Ecological Transition and Territorial Cohesion and the Ministry of Energy Transition of France that have the objective of developing the French law on circular economy.
Article 33 of this law establishes targets for reducing the food waste 50% For this, it establishes two deadlines, in 2025 for collective catering and distribution and in 2030 for commercial catering, producers, processors and consumers.
The main objective of the law is to improve and promote practices that guarantee a reduced level of food waste for consumers as well as in the tasks of the various professionals and companies that participate in the food chain. For all this, it is established as a priority in the first half of 2023 to achieve the benchmark for the sector in collective and commercial catering. In a later phase, carry out and establish benchmarks in the broad agri-food sector.
An anti-waste seal with three levels
The seal will have a label format with a national scope and issued by certifying entities that are endorsed by the Ministry. When the label is available, the company or establishment will guarantee compliance with the established non-dismissal criteria. In this way, in the logo of the seal label it will be possible to visualize which level of the three possible ones has been reached:
1 star : commitment
2 stars: mastery
3 stars: exemplary
Those affected by the implementation of the law and its label are large and medium-sized surfaces (proxies, supermarkets and hypermarkets), wholesalers and hotels. Also butchers, delicatessens, bakeries, cheese shops, greengrocers, etc.
Companies and establishments will have to contact the certifying entities that at the moment are Bureau Veritas and SGS international to obtain the seal.