This is a product traditionally associated with other communities, but few know that Galicia is the largest producer of cider apple in Spain. Its production regularly supplies wineries in various regions. These days begins in the Galician fields the harvest of this fruit. A campaign that is especially anticipated abundant. A large number of small and medium collectors participate in it, especially in the area of Chantada and A Estrada. Learn more about the Galician cider here.
It has always existed cider vocation in Galicia, closely associated with small wineries of limited production. But it has been in recent years that a clear commitment to revitalize the cider tradition. In this way, it is positioning itself in the whole of the Spanish market with a differential offer. Leading this demand for apple for Galician cider and the own cider production is Custom Drinks.
The company located in Chantada (Lugo) has set the pace within the sector with groundbreaking projects as a result of its laboratory of innovation. The launch of their Maeloc ciders flavors shook the market in 2013, being the first to present these proposals in our country. Another of its differential points is linked to Ecological cultivation. Near to 40% of volume of what was collected in Custom Drinks corresponds to an apple of this type. A solid bet of the company in recent years that has not stopped growing. In this way, almost half of its production of Maeloc ciders.
Harvest time
These days the growers are in full swing cider apple harvest in Galicia. A campaign has been started that will last approximately a month and that is expected very abundant. Many collectors and transporters will deliver in Custom Drinks their production. They are specifically, more than 1.000 small growers from the entire autonomous community. These will provide the apples with which the company makes its 100% Galician cider Maeloc. The harvest is mainly focused on indigenous varieties such as Rabiosa, Pero, Jamardo, Marafonsa, Ollo Mouro and Ollo Landoi.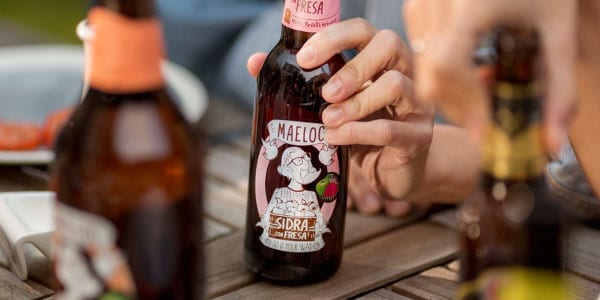 Maeloc cider, the best Galician cider
Maeloc It is made in the aforementioned facilities Custom Drinks in Chantada (Lugo). It has always stood out for its innovative presentations and flavors. In addition, Maeloc places special emphasis on the origin of its production with Galician native apples, through the motto "Harvest of Galicia". This is how their commitment to quality products with a seal of origin is disseminated in all markets.
In this line, Maeloc leads the Spanish sector of flavored ciders. All thanks to its varieties of pear, blackberry, strawberry and pineapple & pear. In addition to its already consolidated Natural Cider, Achampanada Cider, Dry Cider or Sweet Cider, to which is added its version without alcohol, Maeloc SIN. In general, a wide range of Galician cider Exceptional to taste at Christmas.