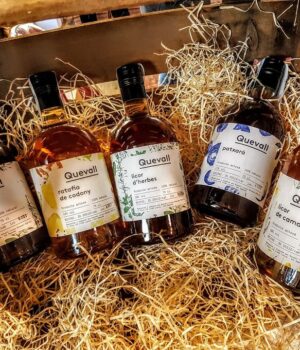 The first Catalan whiskey will go on sale in 2024
when someone talks about whiskey The first thing that comes to mind is Ireland, Scotland or the United States; countries that are currently preparing the most expensive and popular whiskeys in the world. However, nobody thinks of Madrid, Granada, Vitoria-Gasteiz or Girona. And yes, in Girona; and it turns out that in the far north of the Costa Brava Catalonia Single Malt whiskey is being produced, the first 100% Catalan whisky.
The distillery where it is being made is Licors Quevall. It is located in LLançà (Alt Empordà), where other alcoholic beverages such as herbal liqueurs, gin and rum were already being produced. Pilar Martínez and Isaac Castelló, the owners of the distillery and ideologues of the first Catalan whiskey, produce their liqueurs in an artisanal way with fruits and plants. Whiskey is no exception, and it is that despite the fact that yeasts that can be bought in laboratories are needed to make this liquor, they have managed to do it handcrafted. Free of aromas and colourings, this drink is made with home-made barley malt, a 100% Catalan whiskey, from start to finish.
Why will we have to wait until 2024 to try 100% Catalan whisky?
Two years ago, Pilar and Isaac began to investigate whether there was any whiskey made in Catalonia. They discovered that there are companies that buy the Bulk drink, they age it and bottle it, but they did not find anyone who followed a process home. So they got into trouble and made a recipe with water, yeast and barley from Almacelles (Lleida). The whiskey is now getting old 'Catalan style'en Jerez boots, and since it has been in this process for two years now, we will have to wait at least one more to be able to market it.