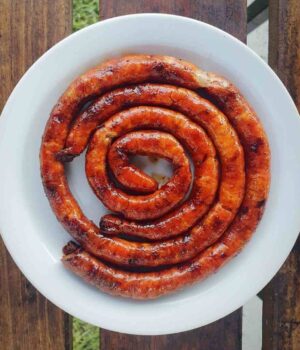 With three names such as Chistorra de Navarra, Nafarroako Txistorra and Txistorra de Navarra, a quality mark is created as a preamble to obtaining the Protected Geographical Indication (PGI).
With this new brand of quality created Navarre sausage will become part of Gourmet King the cluster of quality products from Navarra. The counselor Itziar Gómez highlighted "the presentation of the collective brand is a milestone for this product with total ties to Navarra. Obtaining the PGI will mean strategic recognition for Chistorra de Navarra, which will become a figure of quality at a European level."
On the other hand, the counselor insisted on the importance of the future recognition of Chistorra de Navarra as a PGI, commenting that: "these certifications will only increase the interest of importers for chistorra, which is a quality brand with a great international perspective. Precisely, we have made progress for the participation of this Navarrese product in some of the next agri-food fairs of differentiated quality in the American market."
Chistorra de Navarra achieved sales in 2021 of 1,3 million kilos from the most important companies in the sector. To this amount are added more than 200 kilos from the butchers who make this product.
What is the chistorra?
The chistorra is a sausage that is made with pork and with seasonings very similar to chorizo. Its maturation time is very short. Approximately it can be consumed in two or three days after its preparation and it is stuffed into casing with a diameter of less than 15 mm.
Its preparation in the kitchen is very simple, it is usually on the grill, with fried eggs, with fried potatoes. It can also be incorporated into the preparation of macaroni and stews. All of them are popular recipes that make this humble product a delicacy for many.