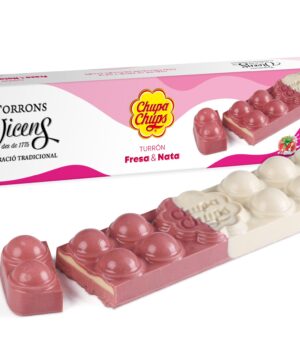 The Catalan firm Torrons vicens lanza Chupa Chups Nougat, an innovative, original and daring variety that fuses the shape of the nougat with the flavor of caramel.
Chupa Chups nougat
This ingenious combination is the result of a collaboration agreement between Torrons Vicens and Perfetti Van Melle for the 36th edition of Salón Gourmets, which was held on April 17, 18, 19 and 20. Torrons surprised visitors to the Gourmets Hall with a variety of nougat that contains Almond, cream and strawberry praline with crunchy Chupa Chups and covered with a thin layer of chocolate blanco. This new variety is part of the collective memory, and is that, who does not remember the delicious flavor of the Chupa Chups of cream and strawberry?, one of the great favorites. It is for this reason that Chupa Chups has joined to add innovation to the assortment of Torrons Vicens with this proposal so original and delicious, which is perfectly aligned with the mark.
Torrons Vicens, a benchmark in innovation after more than 200 years making nougat
Torrons Vicens is a family business that, generation after generation and from 1775, is dedicated to the elaboration of artisan nougats and other artisan specialties. Their products are from maximum quality, and follow the original recipes and formulas of the Agramunt Nougat Masters. The company is located in Agramunt (Lleida) and his origin is humble and enterprising. They guard one of the greatest artisan secrets: the authentic nougat tradition. Backed by the use of the noblest raw materials, Torrons Vicens transmits in its nougats the heritage of the nougat masters, where the almond, sugar, hazelnut and honey come together to make the best nougats.
The company is famous for innovating in the flavors of its nougats, and it is that each year they present new varieties with which they always surprise their public. What will be the next invention of Torrons Vivens?