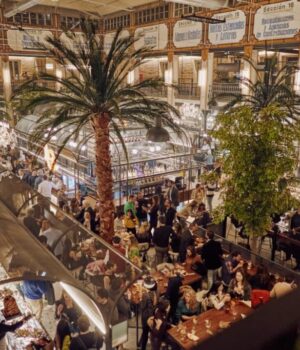 On March 10, the inauguration of the printing market, a new gastronomic market for the city of Valencia. Since its inauguration, the market has already received more than a thousand attendees.
This new market in the city of Turia is a gastronomic, cultural and social space. It is located in the center of Valencia, on Calle de la Mascota, very close to the AVE station and Plaza de España.
The Mercado de la Imprenta has twenty-one stalls spread over one thousand eight hundred square meters. The market, which is divided into two floors, not only has gastronomic venues, but there is also a place for cultural exhibitions and multiple activities to entertain attendees in different ways. The products in the market are of the highest quality, coming from all corners of Spain, and some from international places.
What stalls are there in the market?
In the following list, all the positions that are currently on the market appear;
Super Smash Bros. (Hundred). smash burgers
Poor John Grill. Argentine meats and empanadas
Baovan. baths
Sweets & Coffee. Cafeteria and pastry shop
Sybarite. Croquettes and tortillas
Cannery 1906. Preserves and pickles
Bocadella. Assorted tapas
Antonio Manuel Freiduría. fry shop
Benvolgut – Appetizers. vermouth and appetizers
Martinez truffles. chocolates and truffles
delicious. pizza
HoliHoly. Healthy food
Juan Gargallo hams. charcuterie
The Wine Corner. Toni Sarrion Winery
Sushi 1906. Sushi
The Arrocería. rice
Alsüq. Lebanese
Chema Mel de Romer. tapas
The Printing Market. fish and shellfish
All these stalls have gluten-free options for celiac people who attend the market. In addition, they are working on home delivery and take-away service.