"McAitana" is the new menu of the menu McDonald's. This same one bears the name of Aitana Ocana, the contestant of Operation Triumph 2017. It is not surprising that the supermarket chain has chosen the singer for its new menu. Aitana was a finalist and has been the one that has achieved the most success. In addition to having 2,7 millions of followers On Instagram the young Catalan has collaborated with internationally recognized singers such as Katy Perry.
Menu suitable for coeliacs?
Many of her fans have supported her unconditionally, but others they have charged against her. The controversy flared when the artist published a tweet announcing their collaboration with the fast food restaurant. The menu has been created by Aitana herself, selecting what she liked the most: «CBO with extra of cheese, potatoes with ketchup, McNuggets® with BBQ sauce and the delicious Mini McFlurry Oreos® with caramel topping ... »
See this post on Instagram
Another unexpected news that has only heated the atmosphere is that Aitana is celiac. I mean, she couldn't eat her own menu herself. The singer has defended herself and said that she was diagnosed in the middle of this year when the contract was already signed. He thought it was absurd to change it because all the photographs were already taken and he decided to move on. This is how he explained it at the event of the presentation of the product:
"When I accepted this collaboration it was a long time ago. In the middle of the year, before the summer, I was diagnosed as having celiac disease. Well, gluten intolerant. It has been a roll because we already had the campaign done. The reality is that I have asked myself this all my life. Now I have to order the gluten-free burger, which also has it. There is no point in repeating it because all my life I have asked for the CBO "Aitana.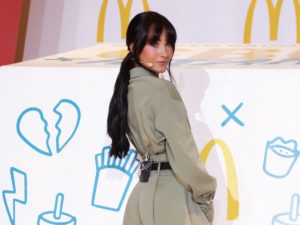 The controversy of the «McAitana» menu
Those who are against Aitana's decision They argue that it is the reference of many young people and adolescents and, therefore, you should be aware of what you promote. In this case you are promoting a menu with more than 1500 kilocalories. That is, almost the recommended kilocalories for an adult per day in a single menu. We talk about fast food which is generally unhealthy. To say nothing. However, you are not forcing anyone to eat your menu every day, but each one has their own criteria to judge and decide.
It is true that consuming this type of food on a regular basis is considered a eating habit very unhealthy. Bad eating habits are one of the influencing factors of obesity and the overweight, which is increasingly common in childhood and adolescence. Perhaps the singer should have made some kind of warning. For instance, "un whim from time to time"Or" in moderation. " But, making it clear that it is not healthy food.
Happy to have my menu on @mcdonalds_es Spain 🤪 From today you can enjoy all my favs products ⚡❤⚡ #McDonaldsXAitana pic.twitter.com/120S1XDgjv

- Aitana (@Aitanax) September 13, 2021
The conclusion
However, we believe that it is necessary for both young people and adults to be aware of what is healthy and what is not. If your favorite artist promotes a McDonald's hamburger or a KFC fried chicken, you should know that that food is not healthy. Therefore, it is essential to have gastronomic culture to make healthy decisions without listening to anyone. This is like everything. The less you know, the more they convince you.
That is why we consider that we must respect the decision of the artist. It is their followers who must be clear that the menu "McAitana" it is not healthy. In fact, the former contestant of Operación Triunfo assures that it is her favorite hamburger. In the same way, she herself has affirmed that she is very excited when her "fans" share photographs trying the famous "McAitana" menu. What do you think? Is it ethical? Leave us your opinion on the comments!