Summer is the perfect time to enjoy the salads With sprouts of all kinds, lettuce, tomatoes, fruit, tuna, potatoes, pasta, avocado, rice, anchovies, nuts, legumes... and delicious dressings. Today I bring you two proposals to prepare a different salad.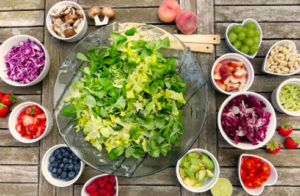 Endives and lettuce stuffed with sea
This dish is not exactly a salad, although it is very similar. Is Cool, does not require cooking and is tasty, fast and summery.
Ingredients:
16 cooked prawns
150 grams of cooked octopus
1 green pepper
2 tomates
1 chive
4 leaves of lettuce hearts
4 endive leaves
1 tablespoon sherry vinegar
parsley
pepper
olive oil
A pinch of salt
Preparation:
The first thing is to prepare the endive stuffing. Clean and wash the spring onion, pepper and tomatoes. We chop the vegetables. Peel the prawns and cut them together with the octopus into small pieces.
The next step will be Mix all ingredients above in a large bowl and add some well washed and chopped parsley leaves. Season with salt and pepper, water with vinegar (or lemon failing that) and add 4 tablespoons of oil. We remove and let it rest in the fridge for 30 minutes.
Wash the lettuce and endive leaves and fill with the salpicon. As a final touch, we will serve them sprinkled with washed and chopped parsley leaves.
Tomatoes stuffed with rice salad
Today's second recipe is a delicious fusion between a tomato salad and a rice salad. Quick, simple and delicious.
Ingredients:
4 tomates
200 grams of rice
1 cucumbers
1 chives
½ lemons
200 grams of feta cheese
100 grams of pitted black olives
a few fresh leaves of aromatic herbs
germinated
2 tablespoons of extra virgin olive oil
A pinch of salt
Preparation:
To begin with, wash the rice well and put it to boil in salted water for 45 minutes. We rinse it and drain it, then we wash all the vegetables.
Cut the top of the tomatoes and reserve them. Empty the tomato flesh with the help of a balls or failing that, a spoon, leaving 1 cm thick.
Peel the cucumber and the spring onion, chop them very well along with the tomato pulp. Chop the olives and the aromatic ones previously washed and dried.
Finally, we put the rice, the chopped vegetables, the olives, the aromatics and the crumbled feta cheese in a bowl. season with a pinch of salt, a few drops of lemon and olive oil. Remove and fill the tomatoes. As a final touch, we cover them with the sprouts and they are ready to serve.
And you? With which of the two? «salads» you stay?