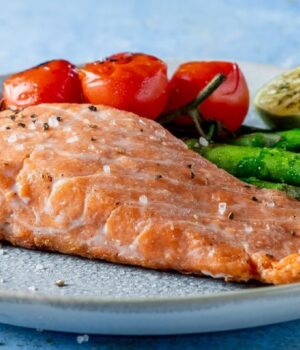 The food company New School Foods has managed to emulate the taste of salmon with vegetable products. Thanks to innovative technology, the food service has achieved its goal, while also respecting the textures of the salmon. Thanks to their scaffolding technology, combined with the use of muscle fibers, they can produce realistic alternatives to pieces of fish. The first attempt has been to make a food that looks like a salmon fillet, but his plans are to emulate many more foods.
Funding New School Foods.
After securing $XNUMX million in financing at, the Toronto-based seafood-based vegetable company plans to increase its workforce and start selling to restaurants soon. New School Foods is supported by grants from Canadian government agencies, such as Sustainable Development Technology Canada o Protein Industries Canada. Thanks to these aids, and other financiers, the company has a capital of thirteen million, which would allow them to continue developing their project.
New School Foods is part of the global movement of "startups". A new market that aims to reach one thousand six hundred million dollars in the next six years. New School Foods CEO Christopher Bryson said in an interview with TechCrunch that: "Fish and shellfish are currently a new piece of the puzzle in technological terms."
Why was New School Foods founded?
Christopher Bryson entered the market five years ago, selling his former e-commerce company for large supermarkets called Unata, to Instacart. As a result of this sale, he began to inquire about the treatment received by animals in factory farms.
Following this study, Bryson stated that "it didn't seem like a lot of people were worried about this" and that learning about the reality of farms was life-changing for him. As Bryson continued to study and analyze the market, he realized that he did not put much technology into seafood. The products that were on the market failed to emulate the muscle fiber texture that he was looking for.
Bryson added: "That's when we created a new technology that didn't rely on this procedure, and was more appropriate for the part cuts we wanted to create."
New technologies.
Bryson has explained how and with what technology New School Foods works: «Instead of using a method that created those high temperatures, New School Foods technology relies on a series of cold processes that result in a product that starts with a "raw" appearance, slicing similar to real salmon when cooked.
"All these steps that add cold can use the standard equipment available in adjacent industries that also use freezing, even if it is not for this function, and this is very important because a large part of everything that tries to be an alternative to extrusion is almost something science fiction."
Where is the future of New School Foods headed?
Thanks to the new financing, Bryson wants to increase its workforce and strengthen the study and development of the company. The most significant increase in staff will be in the science team. Other plans of the Canadian company is to build facilities to be able to investigate and produce. They also want to sell their products to restaurants, they are currently in a pilot program with an American chef.
"In parallel to the creation of our salmon substitute product and its refinement together with several restaurants throughout this year, we are also creating our own production facilities." We also know that this technology has potential that goes well beyond salmon, so we don't plan to stop there," Bryson says about the future of New School Foods.