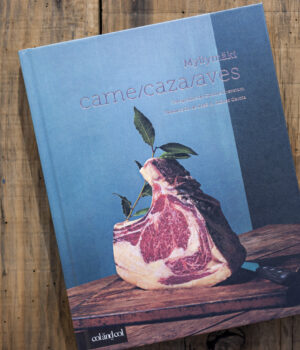 meat, game and poultry, the new book by the Swedish chef Tommy Myllymäki, puts his recommendations and recipes. He does so on a tour of the different types of meat and their qualities, from a good grilled entrecote, some pork chops with plums or a delicious duck confit.
The book is part of the Cocina de autor collection of Col&Col. It begins with an extensive introductory chapter where Myllymäki, one of the most renowned chefs in the world, answers questions about the use of tools such as knives or frying pans. Cast iron or non-stick? . Also the best cutting boards, carving forks on every occasion and the different barbecues, among other aspects. The reader will know what marbling consists of, the best way to bridle meat. It deals with whether it is better to add salt and pepper before or after cooking and what are the different types of background that exist. These and many other tips give way to numerous recipes.
Recipes in Tommy Myllymäki's book
meat, game and poultry includes elaborations starring all kinds of meat, from beef to poultry or a special dedicated to game meats which includes elk, deer or wild boar. In each chapter, he analyzes the characteristics and differences of each of them, the main cuts and the most common cooking methods. The most traditional or recognizable recipes and very personal versions are addressed.
Throughout the recipe book, the most carnivorous will be able to get down to work. They will be able to cook with Provençal-style beef tenderloin, crispy bacon with pointed cabbage, roast sauce and lemon thyme. Also lamb rack with nectarine and goat cheese sauce and chicken breast with fine herbs sauce. In addition to different versions of hamburger, tartare, carpaccio, among others.
meat, game and poultry it says goodbye with a part entirely destined to the various funds included in the recipes to provide even more flavor, such as chicken, beef or vegetable broths.