In 2022, the consumption of prepared dishes reached six hundred thousand tons, with a growth of 3,5% compared to 2021, according to the latest report from the Spanish Association of Manufacturers of Ready Meals (Asefapre).
There are three types of ready meals: refrigerated, frozen, and room temperature meals. Refrigerated dishes are the most successful among consumers, since they occupy 48% of total sales, followed by frozen ones, with 38% of total sales. Finally, the dishes at room temperature, with the remaining 14%. The rise of the "merchants" it has also influenced the growth in the consumption of ready meals.
Álvaro Aguilar, general secretary of Asefapre, affirms that: "This trend confirms that prepared dishes have been able to respond to the needs of consumers with an innovative healthy, tasty proposal adapted to different lifestyles".
Analysis and data.
Dishes made from fish and rice have increased by 26,5% and 24,3% respectively. On the other hand, precooked potato tortillas have increased by 20% in Spanish homes. There are more and more supermarkets that offer more variety in their pre-cooked potato tortillas in terms of the ingredients that accompany them, in addition to being products that are successful among consumers, companies are increasingly producing them with higher quality.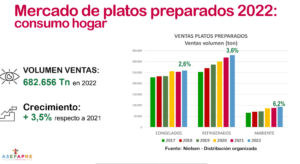 Regarding frozen dishes, the greatest growth was found in vegetable alternatives, for example lasagna, with an increase of 25,4%. Potato-based frozen ready meals have increased by 12,5%. On the other hand, the dishes prepared at room temperature, those based on pasta and rice stand out. Pizza continues to be one of the preferred offers of prepared dishes for Spaniards, in 2022 more than one hundred and thirty thousand tons were consumed.
Spain also exports many of these pre-cooked dishes. During 2022, the production of the companies associated with Asefapre exceeded two hundred and fifty thousand tons, and 18,83% is exported to other countries. The main countries to which it is exported are: Portugal, France, Saudi Arabia, the United States and the Netherlands.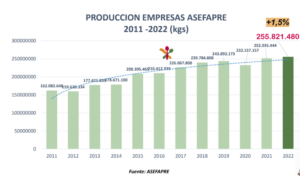 "The data show the degree of acceptance of our offer of prepared dishes on an international scale, and ratify that our capacity for innovation is paying off to meet the differences in consumer trends and that, therefore, it must continue to set the course for continue", adds Aguilar.
The ready meals industry committed to the Aesan National Plan for the improvement of the composition of food and beverages. The use of salt and saturated fat in dishes such as croquettes, dumplings, cannelloni, lasagna and nuggets has been reduced by 10%. Despite this big step, the ready meals industry continues to work to reduce these elements and offer healthier products.