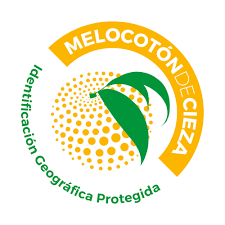 During this 2023, a production of twelve million kilos is expected in the Peach area of ​​Cieza. The Protected Geographical Indication (PGI) is a term to identify the relationship between a specific geographic region and the name of a product. This distinctive is granted when the quality, reputation or other characteristics are related to its geographical origin.
The Cieza Peach will appear in the Register of Protected Designations of Origin and Protected Geographical Indications of the European Union. This means that it has the necessary characteristics, which makes it legally protected, guaranteeing its authenticity and preserving its reputation.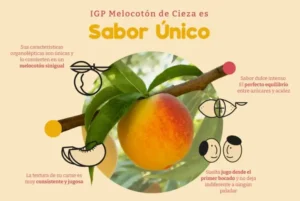 This fruit is closely related to its territory, history and tradition. The Melocotón de Cieza Geographical Indication delimits some areas for its product, based on the soil, climate and adaptation:
● West: adjoins the areas of Las Cañadas and Agua Amarga in the municipality of Cieza
● In the South: close to the places of Rotas and El Macabeo in the municipality of Calasparra
●East: adjacent to the Corona site in the municipality of Abarán and the Blanca train station
● To the North: close to the municipality of Jumilla in the area of ​​El Boquerón.
Regarding its characteristics, it is a sweet and juicy peach. Its flesh and skin is yellow, although the Romea variety can have reddish tones. They are also easy fruits to collect. They have a size between approximately seventy and ninety millimeters.