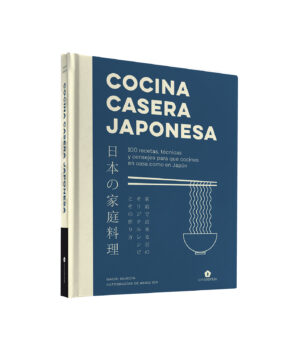 Maori Murota presents japanese home cooking a book that discovers the secrets of everyday Japanese cooking, which he learned while watching his mother and grandmother cook and tasting their dishes, which left his mouth full of flavor and joy. Among her pages you will find traditional Japanese home cooking recipes with which she grew up, as well as original preparations inspired by cuisines from other countries. The mixture of tradition and fusion is very representative of modern Japanese cuisine.
japanese home cooking is a collection of his favorite recipes, all of them XNUMX% homemade, both sushi and ramen as well as miso, natto, anko and even Japanese curries. Cooking at home is not only healthier because you know exactly what you put on the plate, but also much, much tastier.
100 recipes, techniques and tips of Japanese home cooking
The sections of the book present a main ingredient or preparation as the protagonist: flour, rice, vegetables, fish, meat, fermentation and conservation, and tea. In this last chapter, we will find both the ingredients and the basic utensils for the recipes that the author shares. Throughout the book we will discover delicious recipes, such as spaghetti with eggplant, peppers and miso sauce, donburi, baked sweet potato, soba salad, roasted chicken with lemon grass, onigiris, homemade Frankfurt, steamed walnut cake, etc.
Between recipes and step-by-step preparations, we will also discover reports about shops, utensils, cooks, producers and outstanding products of the kitchen of Japan. Both inside and outside its borders.
japanese home cooking is a trip to the heart of current Japanese cuisine at the hands of Maori Murota. The author was born and raised in Tokyo. She moved to New York at the age of seventeen and then made a stopover in Indonesia before settling in Paris in 2003. She was dedicated to styling and the world of fashion which she gave up in 2009 to immerse herself in cooking. She is a self-taught cook, she was chef at the Düo and Bento restaurants at the Conserverie. She has a catering company for events, cooks at home and teaches cooking classes.
Murota prepares fusion cuisine that combines tradition with multiple influences without losing an iota of simplicity and accessibility and that offers the best vegan alternatives.