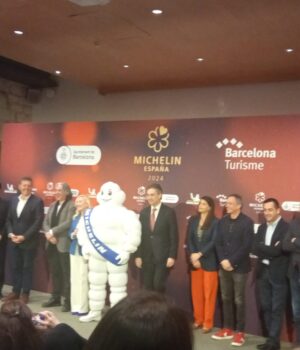 This November 28, 2023 Barcelona will host the gala of the Michelin Guide Spain 2024. The city of Barcelona has been chosen for its leadership in gastronomic innovation and for highlighting the tradition of local products.
Barcelona will host this gala and it is also the Spanish city with the most Michelin stars, specifically 24. Currently the city has 3 restaurants with 3 stars, 5 with 2 stars, 16 with 1 star, 1 with Green Star that recognizes sustainability. It also has establishments with different recognitions within the Michelin guide, such as 8 restaurants with the Bib Gourmand distinction and 38 restaurants recommended by the Michelin guide.
The gala will be framed as a great event in the city that will serve to put restaurants and gastronomy at the forefront. For Barcelona, ​​gastronomy is an important and dynamic element of its tourism that helps increase tourist spending in the city. And it is that 92% of visitors go through their restaurants and increase their spending for this reason by 50%. In addition, the tourist who has gastronomy as one of their main reasons for their visit spends 24% more than the rest.
The Michelin Spain 2024 gala in Barcelona
One of the stars of the gala will be the chefs who will prepare the gala dinner. On this occasion, it will be prepared by the renowned chefs Jordi Cruz, the Torres brothers and Paolo Casagrande. The event will take place at the Barcelona International Convention Center (CCIB) and will have a capacity for 700 guests.
Finally, add that this gala will be the first one carried out by the Michelin Guide Spain in which Portugal will not participate, which will carry out its awards ceremony for the first time independently.