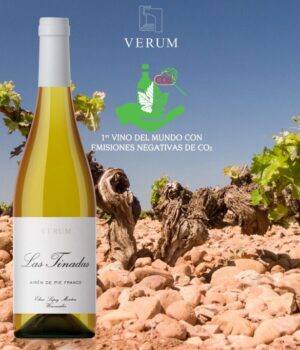 Bodegas Verum has launched Verum Las Tinadas Airén free standing 2021 on the market. This wine is the first in the world with negative CO2 emissions. And it is that the López Montero family, owner of Altosa and Bodegas Verum, is truly committed to the environment and their commitment has led them to achieve this great objective. It is also one of the largest producers of organic grapes in the world.
To achieve this, together with the University of Castilla-La Mancha, they have developed the CO2AFP technology that captures the CO2 from wine fermentation. In this way, Verum puts the first 8000 bottles of wine with negative CO2 emissions on the market, a wine that helps clean the planet. This patented technology manages to capture the CO2 that is emitted in the alcoholic fermentation process of the wine, transforming it into sodium carbonate. Being of biogenic origin, it is an environmentally friendly product. In this way, sodium carbonate, unlike that produced in the chemical industry, is obtained by capturing CO2, that is, avoiding greenhouse gas emissions.
The wine with negative emissions that works for the circular economy
Verum Wineries it already uses part of the sodium carbonate obtained for the ecological cleaning of its facilities. Within the circular economy strategy, the winery is working with stained glass windows so that this sodium carbonate can be used to make its own bottles. In this way, a large amount of CO2 emissions into the atmosphere will be avoided.
Verum Las Tinadas Airén de Pie Franco comes from the Las Tinadas estate, a vineyard planted in the free-standing system in 1950. This wine has always been produced organically, being certified since 2013.
From the 2021 vintage, 8000 liters of negative emissions wine have been produced. They have produced 1.500 kg of sodium carbonate. and the removal of 640 kg of CO2 from the atmosphere.
The 2022 harvest has expanded production to 25000 liters. In 2023 and subsequent years, there will be exponential growth, by transforming the Altosa group wineries with this method. Many national and international wineries have already shown interest in the CO2AFP project.