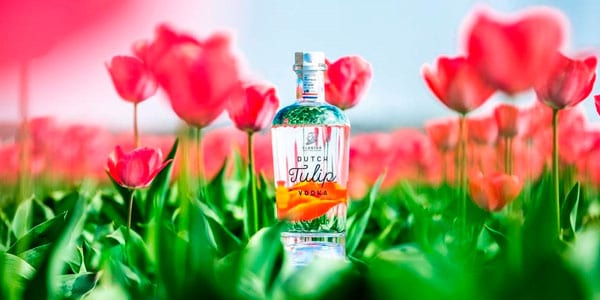 La Clusius distillery has developed a unique production and distillation process. This small artisan business owes its name to the most international Dutch botanist, Carolus Clusius, who introduced this plant in The Netherlands. In this way, the first Dutch tulip vodka.
Located in the heart of the Dutch tulip fields in the town of Katwijk, the young team of clusius works with dedication. They do it in a traditional way and using the latest brewing techniques, to prepare a vodka of special flavor. It is a drink that reminds of grain but also of nuts and flowers.
Flowers and bulbs from organic farming
The tulips that are used for the elaboration are the result of surpluses that cannot be sold or come to fruition. These plants are born from organic agriculture and are not used any type of pesticides. It is this very fact that increases the risk of strangely shaped flowers, as happens in nature.
In the floral trade, crooked tulips are worthless. But for the production of dutch tulip vodka it does not matter if the bulb produces a curved stem. To get the drink it only matters that no pesticides have been used to produce the tulip bulbs and flowers.
Clusius Craft Distillers pays a fair price to Dutch tulip farmers for their organic bulbs to produce your vodka. All this prevents these flowers from having to be discarded. In addition, it is a extra income for producers and allows this sector to grow faster and more efficiently more sustainable financing model.
The purity of Dutch water, key to the production of this dutch tulip vodka
To get the dutch tulip vodka 100% Dutch tulip bulbs are used, cooked and fermented in a manual process. After having the alcohol, the Dutch Tulip Vodka is achieved with purified water by a filter. This is natural sand, the Dutch sand dunes. Water that is known worldwide for its purity, quality and crystalline taste. A perfect match for a vodka premium.
Therefore, the result is an immaculate dutch tulip vodka smooth, with a delicious but complex blend of flavors and aromas.