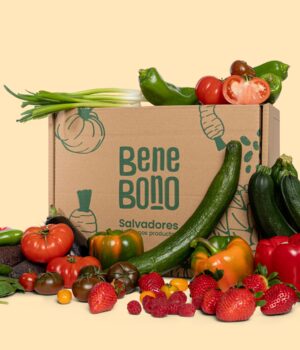 The Bene Bono company that saves ecological and imperfect fruits and vegetables arrives in Barcelona to fight against food waste. Specifically, Bene Bono expects to save more than 7,3 tons of imperfect fruit and vegetables per week in Barcelona.
Fighting against food waste is the main objective of Bene Bono. Following this line, the young company, founded in France, sells 100% organic products grown in Spain. With this, on the one hand, it helps local farmers to dispose of fruits and vegetables that would be rejected by traditional distribution channels. Fruits and vegetables that are mainly rejected for aesthetic reasons: too big or small, with imperfections, crooked, etc.
Likewise, Bene Bono also benefits consumers. Their fruit and vegetable baskets arrive at homes a 30% cheaper than if they had been purchased in stores.
Barcelona, ​​key in the expansion of Bene Bono
According to the Catalan Waste Agency, each person generates 35 kilos of food waste per year. In addition, the Agency states that, in Catalonia, 58% of food waste occurs in homes. Faced with these alarming data, Bene Bono arrives in Barcelona. All with the purpose of reducing the waste of organic fruits and vegetables. In this way, both the social commitment and the environment are increased.
This arrival occurs After four months of operations in Spain, country where Bene Bono began its activity in Madrid in February. In the capital it has already managed to save more than 55 tons of fruit and vegetables and more than 27,5 million liters of water.
His goal: to save 7,3 tons a week in Barcelona
The arrival in Barcelona occurs with the aim of saving 7 tons of fruits and vegetables a week. Currently, it already has more than 30 producers in its network of collaborators. Thus, all customers will be able to purchase weekly organic fruit and vegetable baskets by subscription, available both at home and to be picked up at points of sale throughout the city.
"We are very excited about the arrival in Barcelona, ​​a city that we consider key and in which we hope that our project will be well received, since it accumulates milestones such as having been named World Capital of Sustainable Food 2021. Taking this step allows us to transfer a new way of buying and consuming seasonal fruits and vegetables. The commitment to the environment and society is also increased", explains Sven Ripoche, co-founder of Bene Bono.
His success in France
Bene Bono is backed by its success in France where, in just three years, it has more than 15.000 weekly consumers and a network of more than 300 farmers and cooperatives.
In addition, since its inception, it has saved more than 1.000 tons of organic fruits and vegetables and has avoided the emission of nearly 300 kg of CO2 equivalent, saving nearly 490.000 million liters of water.