Do not you know what it is yet Velada? Velada is the first smart food guide en forma de aplicación móvil. We know how difficult it is to find a good restaurant, Since the great offer present saturates our mind. And also how important it is to have a good time with our family, friends or partner enjoying excellent cuisine and pleasant service. On many occasions, due to lack of time and excess of information, we do not choose well. That's why we appreciate the existence of applications like evening, who are looking for us the best choice.
A 100% digital gastronomic guide
Velada is already present in Madrid, Barcelona, ​​Marbella, Valencia y Málaga and since his birth in 2020 has not stopped growing. From January de 2021 accumulate more than 50.000 users. Its great success is due to Velada not just any guide And because? First of all, it has a careful selection of restaurants based on "minimum criteria of good kitchen, good space and service«. Secondly, Velada allows the user to filter their search by answering real needs. That is, these filters will not find them in any other application.
"To go with parents", "first date" or "special occasions" are some of the filters referring to the occasion. You can also filter if you prefer "covered terrace", "bar", "in a market" or "with terrace". The space It is a decision factor for many people. The environment According to what "mood" take that day If you fancy something "romantic" or perhaps a more "luxury" experience. And of course the audiovisual, essential in any filtering. Well, what if you fancy food? German Well, German or if the monkey has entered you Asian food So Asian.
And for you to trust what we are telling you Velada It has a team of critics and gastronomic experts who visit the restaurants in the application. They are Philippe Regol (Gastronomic Observation), Carlos Mateos (ABC Gurmé Malaga; @MisterEspeto), Jesus Terres (Hedonistic Guide; @Nadaimporta) or Saints Rivas (@colectivodecantado). For that reason, any restaurant in the guide Velada offers the consumer an excellent value for money, customer y gastronomic quality.
See this post on Instagram
What was the origin of Velada?
The origin of Velada dates back to the innovation department of a multinational where Alejandra Papadopoulos, David Martin Suarez and Manuel Casas Barrado they first met. The company was dedicated to developing innovative products and services, each of which performed a different function. Technology, design and innovation. The three key and essential points to develop a product digital innovative. Together they knew they could do it and they did. His great interest in gastronomy and their knowledge and experience in the sector gave them this great opportunity.
We are quite foodies and we were missing a solution to discover restaurants, which, on the one hand, had a selection of only the best restaurants and on the other hand that was easy to use, entertaining and more similar to the apps that we are used to using in our day to day, like Instagram. We have experience creating products of this type and also a lot of passion for gastronomy and restoration... Why don't we make that app that we can't find on the market? founders of Velada
Velada will not stay where it is now, but its objective is to expand to the rest of Spanish cities and offer New services. Thanks to its integration with the software company CoverManager will incorporate in a short time: search by availability y by text. They will also launch the service Premium evening. Through a monthly subscription customers will have access to more specialized services and exclusive events. In addition, they plan to include content related to gastronomy.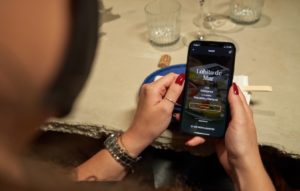 Velada, the first intelligent gastronomic guide
Clearly Velada It is very helpful in finding new restaurants and, very likely, a sure hit. Nobody likes their Evening spoiled by poor customer service or an unpleasant dining experience. We lose tiempo y money. Many apps are based on review systems and ratings from other consumers, but include all restaurants in the city. Velada with its careful selection of establishments, the supervision of experts and its great filtering based on you is very complicated let you fail ¿What are you waiting for?