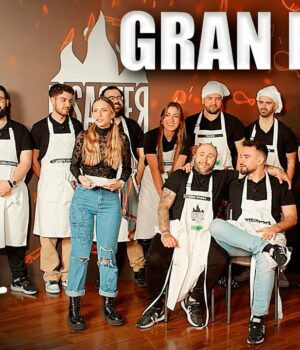 Disaster Chef returned to the screens on Wednesday April 19 with Ibai Llanos and Masi as presenters.
What is all this "Disaster Chef" stuff?
If you are not very aware or aware of the new digital live broadcast platforms such as Twitch, in Gastronomic Information we update you. 'Disaster Chef' is a version of Masterchef designed and presented by the famous youtube y streamer I was going Llanos. The program is broadcast on Twitch, a live broadcast platform in which we are very used to seeing Ibai. Disaster Chef was so successful in its first season that this past Wednesday April 19 The first episode of the second season was released.
The first details of the second season
We know that the second season will feature four programs in which the participants will demonstrate their cooking skills. The presenters, for the second consecutive year, will be Ibai Llanos and Masi Rodríguez. The programme, which is a nod to Masterchef, is focused on the participants being famous influencers y streamers. The first program of the second edition, for example, was composed of three impossible tests for the protagonists of the King's League. The couples of the first program were: Gerard Romero and Víctor Navarro, Spursito and Kiwi, Hugo Fraile and Gemita, María Teresa and Adri Contreras, Eric Ruiz and Javier; and Perxitaa and Violeta. The six participating couples had to make a first course that was inspired by chickpeas, another in Eggplants and a third where they had to carry out a full menu three dishes. In El Segundo program, the invited couples were: Luzu and Polispol, Marina Rivers and Claudia García, Espe and Guanyar, Xokas and Knekro, Skain and Shiro; and, Cristinini and Reven. And in case you're wondering how the second show of the second edition was, just go watch it! Where can you see the program? TAll Disaster Chef programs are broadcast through Ibai's own Twitch channel.