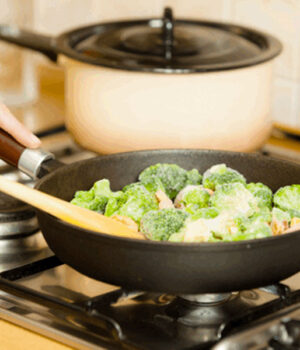 The rise in prices of the current inflation leads us to change some purchasing habits in our diet. One of them has been the increase in the consumption of frozen vegetables. Undoubtedly a very intelligent option on the part of the consumer since they are cheaper products, very healthy and very practical in the kitchen.
Also the increase in the consumption of vegetables in our diet has helped to increase the consumption of frozen foods. Vegetables are very important in our nutrition as they are rich in vitamins, minerals and fiber. In addition, the calorie intake is low.
Nutritionally Interesting Frozen Vegetables
The question that many consumers ask is: what nutritional difference is there? The difference is small and sometimes if the vegetables we buy are not really fresh it can be even less in the case of fresh vegetables. The deep-freezing process at -40ºC that the vegetables undergo in a very short period of time after they are harvested guarantees that they retain all their properties. In this process, transport to the home is important so as not to break the cold chain and guarantee all its nutritional and textural properties.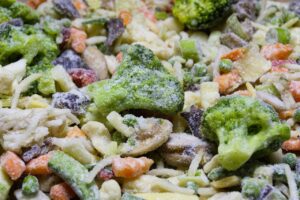 On the other hand, one of the great advantages of freezing is that cold is the main preservative and it is not necessary to add any additive or preservative to the product. Another of the great advantages is that we can have many vegetables during all times of the year, with a very affordable and stable price.
Recommendations for frozen foods in the kitchen
As we have already mentioned, it is important not to break the cold chain both during transport and handling. A proof that the cold chain has been broken is the products that have become caked.
Remember that it is not necessary to defrost the vegetables as they can be cooked directly. There are some exceptions such as the frozen ones that are presented in blocks that require prior defrosting before exposing them to heat. An example is spinach.
Our vegetables frozen can be cooked with all techniques. You can sauté them directly frozen, prepare a rich Wok, cook them or steam them. Do not forget to read the instructions on the packaging to avoid exposing them too much heat or overcooking.
Use only the amount you need, but do not refreeze already thawed vegetables. The rest can be stored in a tightly closed container.