News more than attractive that has just arrived at the supermarket of the Valencian chain. The saxony turkey breast it is an option fast, light and tasty to enjoy a meat product with a high contribution of proteins. It captivates you for its natural smoked flavor but also because it is presented in an ideal format to cook. If you want to know more, it still hides more secrets, so we will tell you about them below.
Three in one, Serrano's proposal
Of the company Meat Serrano This product is born that the supermarket sells in the meat section. It is a three in one because the proposal is magnificent. First of all, it stands out for its ease of consumption: open and pass two or three minutes per pan that breast of Sajonia turkey from Mercadona. Then, secondly, it is a tasty product, with that characteristic, differential smoky touch. Smooth on the palate, the fact that just take fat helps to eat it without finding any hard pieces. Its cut is clean, fast and the container contains eight slices of this cold meat.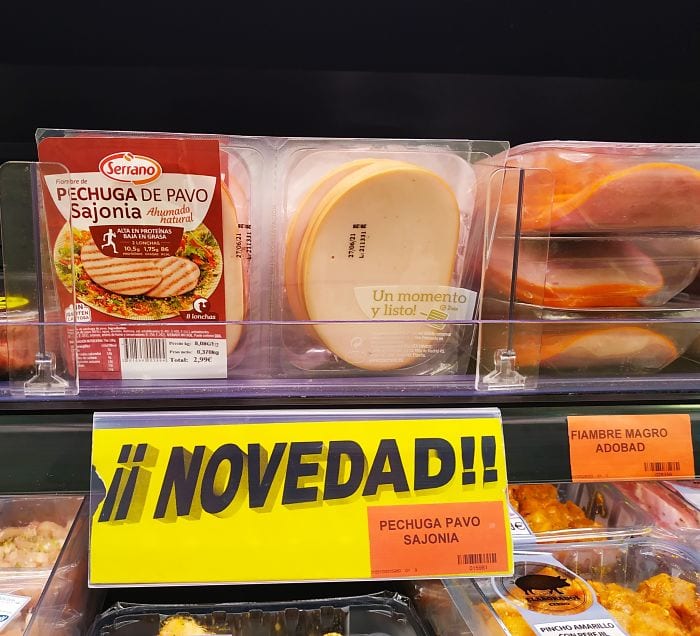 A third advantage is that it is presented in Two parts, of four fillets each. In this way, you can consume only one and leave the others for another day, later. Because, precisely, his expiration date is lengthened. In addition, once opened, the chicken breasts sajonia turkey from Mercadona they can stay in your fridge for two days. Not one more. Finally, a mention should be made of the price, which is economical: 2,99 € for about 400 grams of this meat.
Protein contribution with the Saxony turkey breast from Mercadona
Another of the great assets of these chicken breast sajonia turkey from Mercadona it is its great protein contribution. About 100 grams of product contain about 12 grams of protein, so you know what to eat after going to the gym.
Enjoy this sajonia turkey from Mercadona because it offers you all the advantages explained with the guarantee of a tasty, practical, nutritious and long-lasting dinner or meal. Have you already tried it? We want to know your opinion.