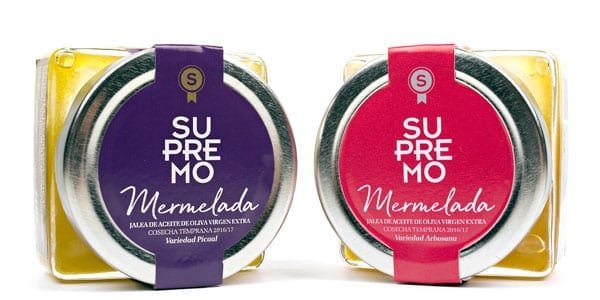 After a year working on the formulation, textures and preservations, Supreme presents its EVOO jam. It is designed for snacks and breakfasts. Is a jelly that does not contain a single additive, only water, sugar and much Extra Virgin. It makes it a very versatile product in our kitchens.
The new launch of the casa Supreme Oil It comes in no less than two different but complementary flavors. A Picual, with the most bitter and much more marked tones. With an amazing personality when it comes to moving through our mouth. And one of Arbosana, less bitter and that enhances or develops sweet tones much more. It is more suitable for dessert dishes.
EVOO jam, a reminder of the flavors of the old snacks
After having tried the products in a multitude of population segments, adults stand out. They all agree that "they remember their childhood breakfasts when they had bread, oil and sugar." Also the children's segment that directly finds this fascinating product, in addition to being healthy.
HR Supreme jams are presented in the format of 100 grams and once opened they need refrigeration. Its texture is fragile and delicate providing a very pleasant sensation when we taste them. This new product closes the series of presentations of Supreme for this campaign.
La EVOO jam Supreme was born from the collaboration between two young entrepreneurs, Andrés García and Alberto Molinero. As well as his great experience of the cooperative San Juan de Jaén. From this synergy they have already harvested more than 50 awards National and international.
Now they surprise us with this product, the result of a work of innovation. If for something it has been characterized Buy Supreme In the four campaigns that it has of life it has been for betting on agri-food innovation.
This EVOO jam you can buy it in your store online.