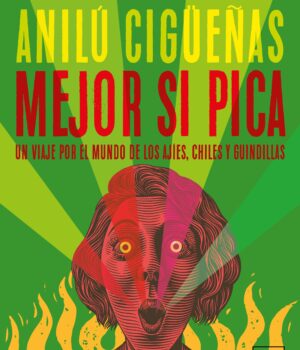 better if it itches is much more than a recipe book, it is a book written by Anilú Storks about him hot spicy that combines interesting/curious content, cooking techniques, illustrations, humor, recipes and even music. A monographic book on the world of spiciness that celebrates the peculiarities, beauty, diversity and versatility of chili peppers, chili peppers and chilli peppers. It also teaches us to treat them to get the best out of them and to adapt them to our tastes and tolerance to spiciness.
The work gives us clues about how to replace them to face the recipes with those that we have more at hand and, even, how to make the most of them, avoiding waste. From the cooking waters, to the skins and seeds.
Touring the world of spicy
better if it itches edited by Planet Gastro proposes a trip around the world starting from America, with Mexico and Peru as its greatest ambassadors. Each one with its own seal, in Mexico they prefer them green or dry, in Peru they are ripe and remove the excess of spiciness. Also traditions of sauces, ceviches, moles. We arrive in Europe, where the vegetable is mostly turned into a spice like paprika in Spain and paprika in Hungary and sneaked into pastas and stews in southern Italy. We continue in the East, where it is integrated into ferments, sauces and curries. Thus, the book presents the most representative peppers from different parts of the world. It gives an account of how each region adopted, conserved and interpreted these ingredients and made them, in many cases, an indispensable part of its identity.
Spicy and unique recipes
Mejor si pica brings together 50 chefs and bartenders from around the world. Everything to pay tribute and demonstrate the great versatility of chili peppers, chili peppers or chillies through 90 recipes, from the most classic to the most current.
It is the first publication that brings together recipes from renowned chefs around spiciness. Dishes that are now part of the menus of prominent restaurants and bars around the world are presented.