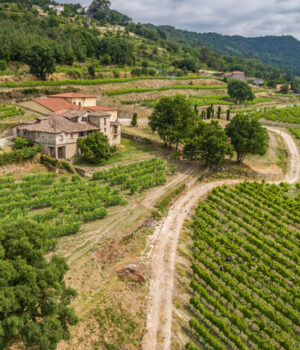 The owners of the well-known beer brand Estrella Galicia have bought the winery group Large Galician Payments. This group includes the O Rosal and Ourense wineries that produce wines from three denominations of origin. Until now the owner was the current president of the Real Club Celta de Vigo, José Mouriño.
With this acquisition, Hijos de Rivera, owners of Estrella Galicia, expand and also consolidate as winemakers. Until this moment they already owned and produced wines at the Ponte da Boga winery of the Ribera Sacra denomination of origin. With the current purchase of Grandes Pagos Gallegos, the wineries of Finca Viñoa-Pazo Casanova and Fraga do Corvo will be added. They will also have the majority shareholding and thus control of Quinta de Couselo. These three wineries produce wines from the designations of origin of Ribeiro, Monterrei and the latter from Rías Baixas. To these three denominations of origin is added the one that already had Ribera Sacra.
Large Galician Payments
The Grandes Pagos Gallegos Group was already operating in 2013 when the businessman Carlos Mouriño joined the project. Later, with Mouriño, the Quinta de Couselo Winery was incorporated into the project, which was already part of the original Finca A Viñoa project. In 2014, the Pazo de Casanova project was added to form Finca Viñoa-Pazo Casanova, from the merger of these two.
In this way, the Hijos de Rivera Group will be able to have wines from four denominations of origin from the five Galician regions and made with native varieties such as Albariño, Godello, Mencía, Treixadura and Caiño blanco. With this purchase, the Group reaffirms its commitment to Galician viticulture and the recovery and promotion of native varieties.
Finally, add that the purchase or the value of the transaction has not been officially communicated.