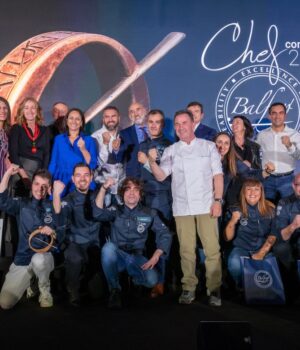 The Montagud Editores Awards were held on January 23rd. The Barcelona publisher Montagud Editores, created these awards that were delivered last week.
The gala had thirteen categories, in which the best professionals in the gastronomic sector were awarded. The awards ceremony began at nine o'clock at night, at the Madrid hotel "Hotel Iberostar Las Letras Gran Vía". The event was attended by important and recognized chefs nationally and internationally.
Abraham García, from the Viridiana Restaurant, Ángel Pardo from the Michelin guide and Javier Antona Giral, a journalist and gastronomic writer, were part of the jury for the XNUMXst Montagud Editores Awards. The readers of the editorial also decided with their votes who would be the winners.
Who were the winners?
The world of cooking is in luck and after knowing the names of the winners in said event, there is a list full of names to write down, recognize, enjoy and admire.
Below is the list of the winners, and their current track record.
To a lifetime: Abraham García (Viridiana Restaurant)
To a lifetime – Ángel Pardo
To a lifetime – Javier Antona Giral
Chef of the Year – Toño Pérez (Atrio Restaurant)
A Young Chef of the Year – Javi Sanz and Juan Sahuquillo (Oba Restaurant)
A Best Institution – World Central Kitchen
A Sustainability – Restaurant Les Cols
Best Pastry Chef – Jordi Roca (El Celler de Can Roca Restaurant)
Innovation Award – Ángel León
For Best Sommelier – Lucía Fuentes (Aponiente Restaurant)
For Best Head of Room – Diego Sandoval (Coque Restaurant)
A Best Waiter – Marcos Granda (Skina Restaurant)
For Best Cocktail Treatment – ​​Diego Guerrero (Dstage Restaurant)
For Best Treatment of Meat – Luis Lera (Lera Restaurant)
For Best Fish Treatment – ​​Hugo Muñiz (Ugo Chan Restaurant)
An Imperfect Chef – Vicky Sevilla (Arrels Restaurant)
Special Prize awarded by the Montaguders – Editor of the Stars-Javi Antoja De la Rosa (Montagud Editores)