Is coming all Saints Day. Date that commemorate the deceased. In recent years it has started to look a bit overshadowed by Halloween. American holiday that is celebrated just the day before, on October 31. Nevertheless, in Spain the tradition continues. In it, it is typical to go to cemeteries to honor those who are no longer with us. Also, as with all special events, We are accompanied by a multitude of gastronomic dishes. Do you want to know some of the recipes for All Saints Day? Here we tell you.
Roasted chestnuts
If there is a food that remind us of autumn and cold are roasted chestnuts. The best way to consume them is freshly roasted. However, nowadays cooking them at home is a practically impossible task. Due to the fact that they are made in a chestnut pot or pan, characterized by being perforated and currently houses are equipped with induction cookers or vitroceramics. For this reason, two alternatives have emerged: roast the chestnuts in the oven and microwave.
How to roast chestnuts in the oven
The first step is to perform a cut chestnuts. This is essential for do not explode with the heat. To do this, they must first be washed and peeled. Once they are ready, they are spread out on a tray that may or may not be covered for a sheet of greaseproof paper.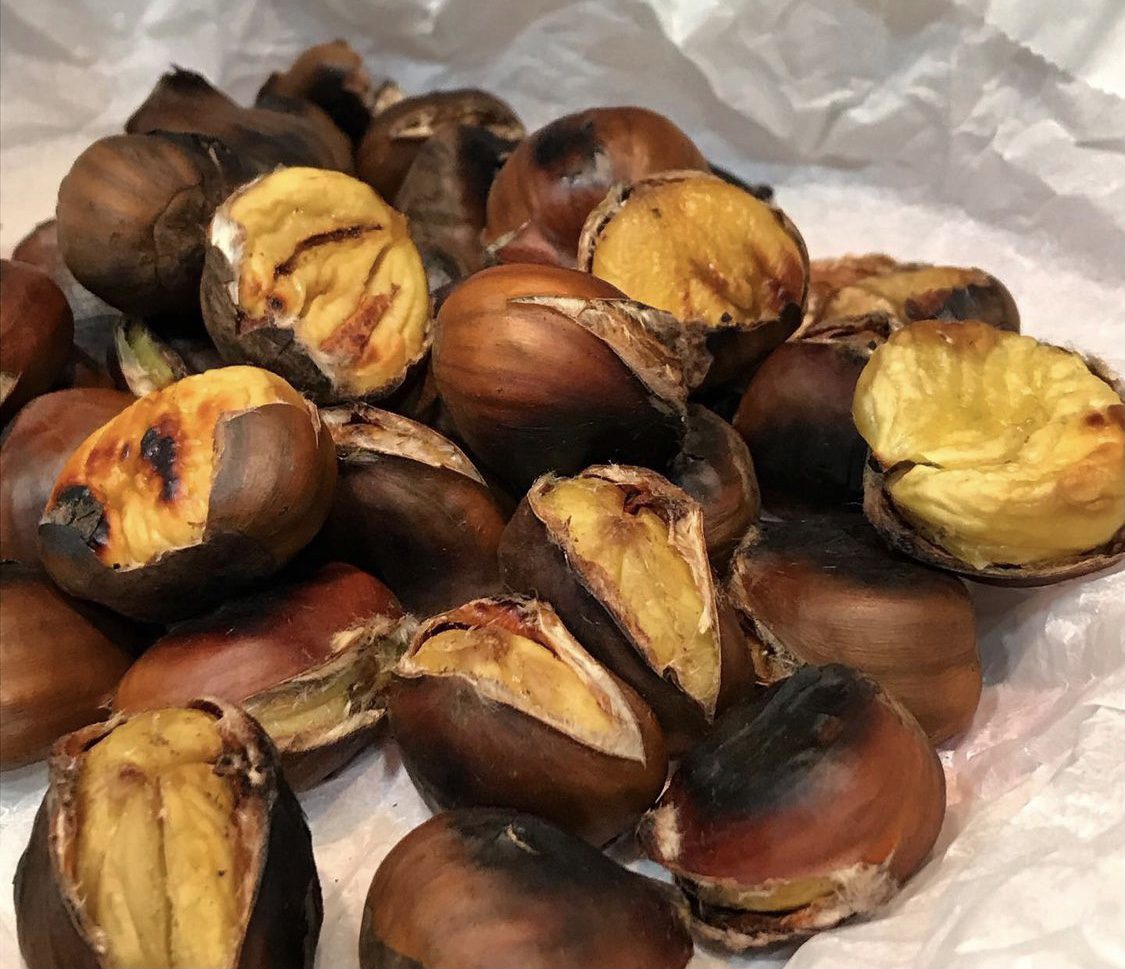 Meanwhile, turn on the oven and put it at 200ºC so that it warms up. You can use the fan option or the heat option up and down. When it's hot insert the tray with the chestnuts. In 15 or 25 minutes Will be ready! It's very important stir the chestnuts halfway through cooking so that they roast evenly.
In the microwave
We repeat the steps of the previous recipe for all Saints Day. Until placing the chestnuts on a tray. Next, the microwave is programmed between two and three minutes at 800 watts and are introduced. Depending on the appliance it may take more or less, so we advise you to keep an eye on them.
Panellets
Panellets are a typical sweet of Catalonia It is consumed as a typical recipe for All Saints' Day. They are made marzipan-based and, later, it is covered with pine nuts, almonds, chocolate, coconut, etc. Depending on the taste of each one.
For this you need the following ingredients:
500 gramos de almond raw ground
500 gramos de sugar glass
2 clear of egg
30 grams, approximately, of water
Zest of lemon
Essence of vanilla (Optional)
Well, it would be. Once again I have made panellets, despite saying year after year that it will be the last. #Castanyada #panellets #Traditions pic.twitter.com/crW7Nbnioo

– Ció Lerma 🌿 (@CioLerma) October 29, 2021
To start this recipe, you have to mix the almond, the icing sugar, the grated lemon peel and the vanilla essence. Later, you add the whites to this mixture and the knead until you get a suitable texture. Water can be added to make it more moldable. The dough would already be made, so now leave it rest a couple of hours.
The general thing is to make them in the shape of balls, however, you can give it any way you like. While you are shaping them, roll them with the ingredients of your choice. As you finish, you see placing them on a baking tray. Beat the yolks and paint them.
Preheat the oven with the grill at 170ºC. When it is hot, add the panellets and bake until golden brown. Some 10 or 12 minutes. Once this time has passed, they will be ready!
The pestiños
The Pestiños are a traditional sweet. In some regions it is consumed at Christmas with polvorones, in others at Easter IAfter they eat it as an All Saints recipe.
The ingredients needed are:
300 gramos de flour
25 gramos de lard
25 gramos de butter
70 milliliters of water
35 milliliters of white wine
A little bit of shawl
Olive oil to fry
Honey
More water, to taste
Anise
Sugar glass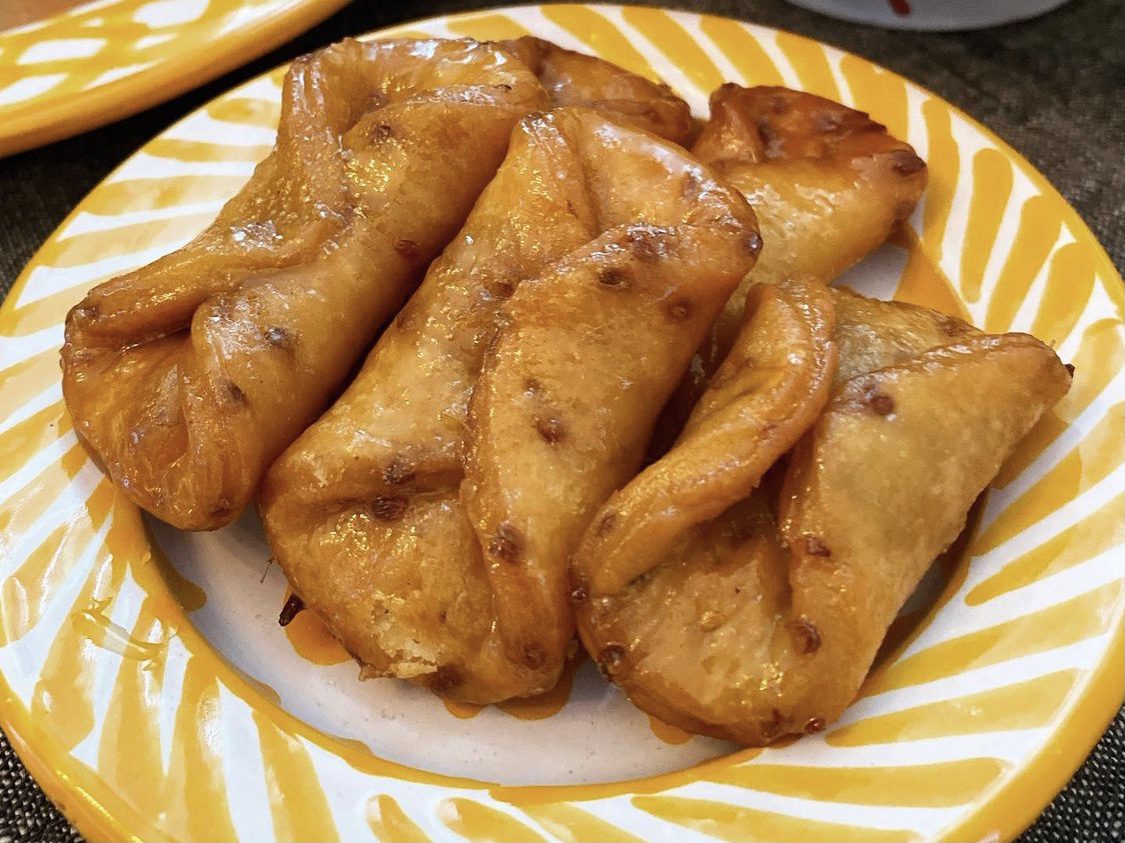 For its realization, the first thing you have to do is add the water, wine, butter and butter in a saucepan. Put it to warm in low fire Without letting it come to a boil! Once melted pour the flour into the container, previously mixed with salt. Take the saucepan off the heat and mix well with a wooden spoon. Until you can work with the dough
Pour the dough out onto a spacious surface where you can knead it. make a ball with all of it and place it in a bowl covered by a plastic wrap. Let it rput two hours in the refrigerator. After this time, sprinkle the surface with a little flour. Begin to roll out the dough with a rolling pin, until it is very thin.
Subsequently, cut this into squares or rectangles and fold two of its corners towards the center. Pressing the center with your fingers. The only thing you need now is fry them.
Once they are all done, it's time to prepare the syrup. For them, heat honey in another saucepan, lightened with a little water and a splash of anise. When it starts to boil lower the heat and reduce for ten minutes. Until you get a light syrup. Bathe the pestiños in this syrup and… enjoy them!
These are some of the favorite recipes of the all Saints Day For the spanish people. Easy, with food and products accessible to everyone. The perfect plan to pass a family cooking day. Do you miss some plate that we haven't talked about? Let us know.