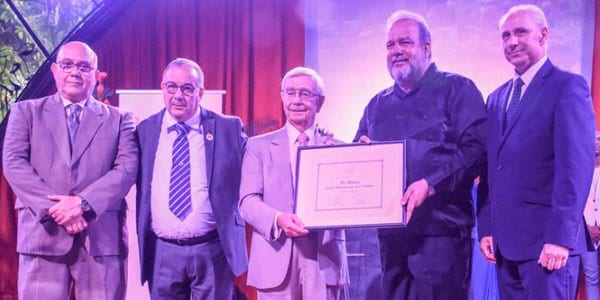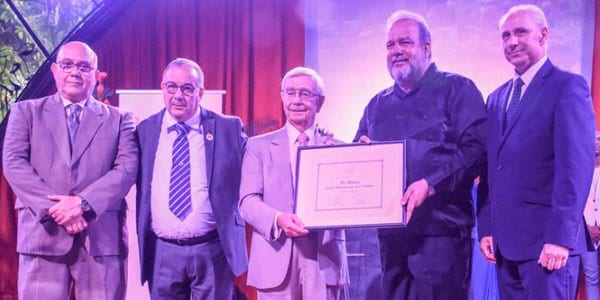 Cuba and Spain They will work to support the dissemination of gastronomic culture in the world. This includes the Cocktail. That I assure in conversations Rafael Anson, President of the Ibero-American Academy of Gastronomy. It was on delivery in Havana of the title of Ibero-American Capital of Cocktails 2018, on May 14.
The cabaret Tropicana was the setting chosen for the delivery of the Capital. A ceremony presided over by the Cuban minister of Tourism, Manuel Marrero placeholder image. He thanked this designation to "strengthen Cuban gastronomy. As well as the traditions of our food ".
According to Marrero, the condition of Cocktail Capital awarded to Havana constitutes a high recognition. For him, it is a gift within the framework of the festivities for the 500th anniversary of the Cuban capital. This is celebrated in 2019.
The cocktail bar distinction is for the capital, but "we assume it as the whole country," the minister considered. He recalled that next year will be Havana the venue of the edition 39 of the International Tourism Fair of Cuba. This fair will precisely have Spain as a guest of honor.
The bartenders of Havana
He praised all Cuban bartenders and workers for positioning the Cocktail local. With special mention to daiquirí, the Cuba libre and the mojito. Thus, these are "drinks that distinguish us on international stages." The recognition was extended "to rum masters and suppliers who put quality drinks in our bars."
The distinction of Ibero-American Capital of Cocktails in 2018 was awarded to Havana last January. But now he has received the award. It was under the International Tourism Fair (FITUR) held in Madrid.
So too, Cubans living in Spain they could be reflected in their original culture. Many of them have been in our country for quite some time, but they do not forget their roots. Neither the typical drinks of Cuba, which have also brought them from there to spread them through Spanish society. Everything is by grace of the gastronomic expansion between both countries.