Does he sound like something to you? gyros? If it doesn't ring a bell, we start by mentioning that it comes from Greece. This country, in addition to its great cultural contribution to our civilization, has become fashionable due to its paradisiacal beaches. Some movies, like "Troy" o "Mamma Mia" they became an object of veneration by the masses and aroused great tourist interest in this country. What gastronomic wonders does it offer? Let's focus on one of the best known.
Gyros: a format we know
We are before one of the greek dishes best known internationally. Its format is quite reminiscent of kebab to which we are accustomed. It even resembles the tacos. However, anyone who has set foot in the Hellenic country knows that the gyros is much more.
If this summer you decide to visit Greece, the usual thing is that you land in Athens. This is usually the starting point for those who are not satisfied with stepping on an island or two, they are usually Mykonos y Santorini. If you are one of those who like to explore, you have thousands of islands to choose from, as well as spectacular mountainous landscapes such as Meteora. In all of them you can buy this dish based on pita bread at a very good price, less than two euros.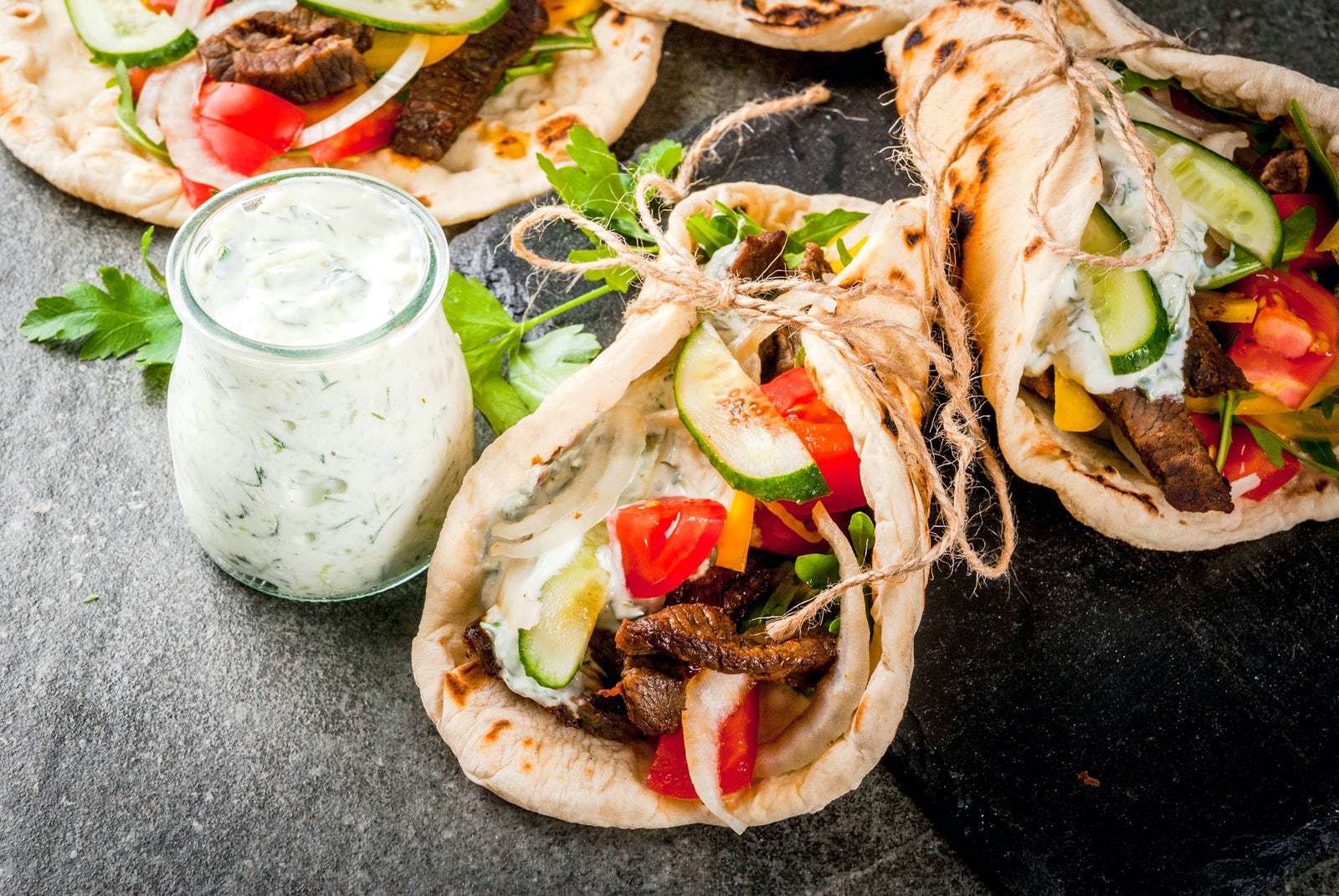 It usually has a meat-based filling with lettuce tomato y onion. However, as the Greeks are Christians, they are not governed by the Islamic prohibition of the pig. Thus, in Greece this dish often contains pork, something unthinkable in Turkey with the kebab. Another characteristic feature that differentiates it from the kebab is the potato. It's gyros contains potato in its filling, in addition to the vegetables mentioned above. Without a doubt, this detail can shock the traveler accustomed to the kebab.
Tzatziki: the sauce that makes the difference
Here comes the best: the sauce. 100% sure you have heard something about him Greek yogurt, although there are doubts that it was actually invented there. Well, the gyros is made using a sauce from it called tzatziki. This is also typical of Turkey, a traditional enemy of Greece due to its imperial past. However, it turns out that both peoples have been enjoying this delicious mix of yogurt, cucumber, lemon, dill, oil, pepper and mint.
From our writing we strongly encourage you to explore the natural and archaeological wonders of the cradle of Western civilization. Once you arrive, you must try the gyros yes or yes. If, on the other hand, you cannot travel right now or you must postpone the flight for reasons of force majeure when you can, you have other options. One is to go to a Greek restaurant, which is easy if you live in a big city. The other requires skill, although not much, and consists of doing it at home. You dare?