La swivel It is a typical dish of the Catalan Pyrenees. It is one of the few lamb sausages that are successful in Spain. Like the chickens, it started in the lower classes and worked its way up to its present prestige. Here we tell you its traditional origin and some curiosities such as its Guinness record. Surely you were unaware of this little-known product.
Origin with their relationships
Lamb sausage, you hear it. Although Spain is the country of pig we can find curious cases like this. It is a typical dish that is typical of mountainous areas of Lleida y Huesca. So we meet a distant cousin of the famous haggis Scottish. It is also related, more closely, to the merguez Berber. The case is to get a food that makes the most of the different parts of this adorable animal.
In this product, different parts of lamb, rice and dressings have been brought together for centuries. There is a registered record of its existence since XV century. It was a severe time in the rural areas of the Pyrenees. According to the writings that are had, the inhabitants sacrificed a lamb on designated dates and later they could not afford to throw anything away, hence this meat product was made. The Aragonese regions where it is typical are Ribagorza, Sobrarbe and Somontano de Barbastro. In them it is known as chireta. Meanwhile, in the Catalan part (Upper Ribagorza y Pallars) is known as swivel.
How is girella obtained?
Being a food prepared in the massacres of towns, their composition may vary. It usually consists of intestines, gut, heart, lungs y I entertain. The last one is probably not familiar to you. This is the membrane that surrounds the gut. These ingredients are combined with rice round and spices to give place to the filling or mess. The most used are parsley, a bit of cinnamon, it, shawl y pepper. There are those who add derivatives of pork such as minced bacon, bacon or serrano ham.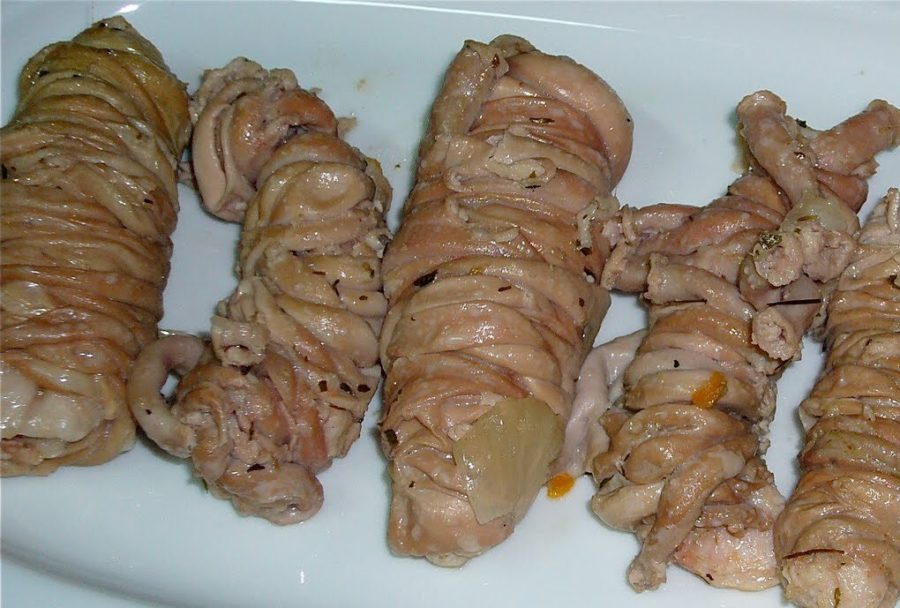 Once we have all these ingredients is when the magic begins. The most important of all is gut. First we put it to boil to wash it well. In turn, we are cooking the filling in another pot. We cut the mentioned ingredients into small pieces and put them with rice. Everything is mixed very well and the tumbled turned over is filled with it. The name in Aragonese comes from shriek (literally turn around) for something. Once it has been fully cooked and cooled, it is when it can be fried.
Curiosities
The town of Vero's Pool in Somontano de Barbastro (Huesca) was awarded in 2001 with a Guinness record. This honor was the result of a swivel almost 104 meters y 187 kilos! Such was its size that it required cooking for several hours in one thousand liter pot. The feast of the chireta He returns every year with two thousand of these sausages. It takes place in autumn although the 2020 one is suspended. Their goal has never been to break the record again but if they set their mind to it, they are likely to succeed.
Well it is true that it happened unnoticed outside their regions for generations. However, events such as the fair, where they are also exhibited, have relaunched it and its popularity has grown. It has become a way of claiming local identity in a globalized world. Currently we can find new ways to consume swivel as battered in in sandwich.
Other similar cases
This dish, although it may not sound familiar to most of us, also has Spanish relatives. They also come from places to the north where sheep have a significant presence. These two foods are mondejus and txuri ta beltz de Navarre and the Basque Country. The mondejus are typical of Guipúzcoa and differ from their Catalan family in the filling. In this, vegetables are used, the main one being the leek. It also includes peppers.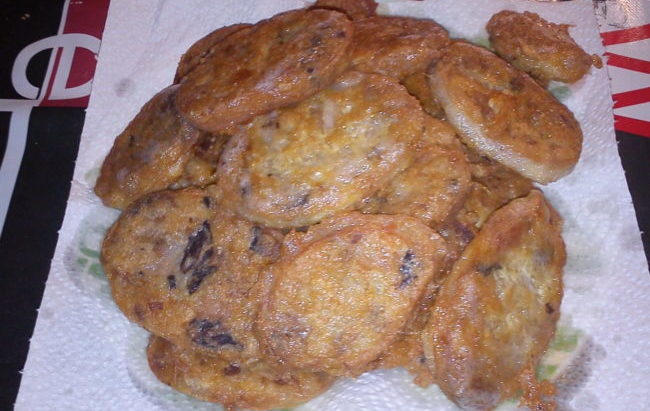 txurri means white y Beltz black. It is a dish that consists of a white part corresponding to a lamb black pudding. In addition to this we have the black one, which is coagulated and cooked blood. Despite the distinctions, all pork sausages are based on the same concept. They abound in places where due to geography the grazing of sheep is more profitable, animals that require less water than pigs. Apart from being more resistant to the harsh temperatures of the mountains in the north of the peninsula or to the Moroccan heat.
In short, now you know the unusual but practically only lamb sausage that we encourage you to try if you travel through any of the Pyrenean regions mentioned. The swivel is waiting for you there!