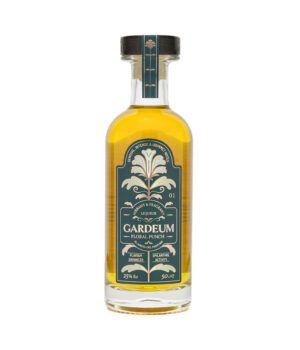 Feeling the aromatic explosion and the evocative power of a garden in a cocktail is possible thanks to gardeum. This vibrant and fragrant liqueur has been formulated as a perfume that offers an enveloping experience that captivates the senses.
The colors, flavors and floral fragrances are the soul of Gardeum. A creation of the bartender Javi Candás and his partner, the perfumer Andrea Lorusso. To create it, they have been inspired by the expertise of the maisons French from Grasse or Champagne. The creation and elaboration walks the fine line that separates perfumes from liquors to offer an experience that goes beyond umami.
Gardeum's uniqueness lies in a smooth and long-lasting vibration on the palate. It is an aromatic explosion of high perfumery thanks to "spilanthol", from the electric flower (Acmella oleracea) that stimulates the perception of flavors and amplifies nuances.
Made following the same formula and methodology as a perfume, its creators offer a fragrant liquor. Its notes provide sensuality, intensity and balance while evoking a dream garden.
Gardeum, flavor and fragrance in a liqueur
The citrus touches of the Satsuma mandarin, the acid notes of the baobab and the persistence of the yellow rose are complemented by the sensuality provided by the Jasmine Sambac and the elegance of the ambrette seed.
The passion for nature, research and innovation guide the steps of its authors. They have worked closely with this plant of subtropical origin, for more than five years, until they achieved a new category of product.
Gardeum, for a perfect pairing
In gastronomy, gardeum it can be enjoyed as a most original pairing in a glass on the rocks, on the rocks. It can accompany proposals such as sushi or ceviche, in which it enhances salinity. Also in recipes with Mediterranean herbs or curry, in which its freshness stands out. A perfect accompaniment with caviar or shellfish, where it stimulates salivation. And also, of course, in sweet recipes made with exotic fruits, citrus fruits and even chocolates.
In mixology, it is the perfect ingredient to add to cocktails like Gimlet, Fizz, or Collins. Also in a glass of Champagne, fanning its freshness.