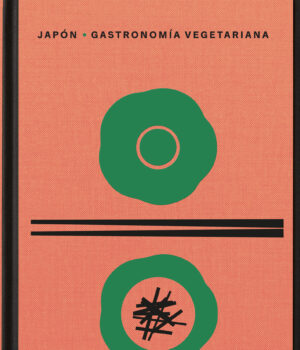 Japan Vegetarian Gastronomy is the book by Nancy Singleton Hachisu, the current expert in Japanese home cooking. In the book she presents 250 authentic Japanese vegetarian dishes. Hachisu is an American married to a Japanese farmer who has lived in a rural area of ​​Japan since 1988. She has taken advantage of this circumstance to publish excellent Japanese cookery books.

A fantastic book that will be published this coming month of April by Phaidon. This book is ideal for all those who follow a plant-based diet or simply want to adopt a healthier way of eating.
After several years in development, Japan Vegetarian Gastronomy is a book that Hachisu wanted to write. Hachisu pursues a desire to share his knowledge of the ingredients, culture, techniques, and traditions of his unique culinary style, often called "devotional cooking." Japanese food has a long and detailed history with vegetarianism. Many of his dishes are inherently vegan and vegetarian. All this is due to the influence of Zen Buddhism in the cooking and eating methods that the monks used in their temple food.
Japan Vegetarian Gastronomy
The book's recipes are divided by cooking style: basic, seasoned, pickled, fried, simmered, steamed, sautéed, grilled, canned, and sweet pickles. All this along with a comprehensive introduction to Japanese vegetarian cuisine. Also with essays that explore the ingredients, culture and tradition associated with it.
The first chapter on preparation provides an essential overview of the fundamentals, from cooking rice to making dashi and tempura.
Hachisu features hundreds of recipes based on pure and seasonal ingredients. All as a base for this clean and restorative meal. Recipes include: Tomato and Tofu Gratin; fern sprouts with sesame vinegar; Yuzu stuffed with namasu; Taro tempura, soba gaki and celery leaves; French fries salad; Okayu of seven vegetables and mochi among others.
Japanese culture and gastronomy
The book presents the principles of vegetarian cooking
traditional japanese. That is to say, respecting the most humble ingredients, being conscious when preparing and eating food, and being grateful for the producers and the gifts of nature itself.
Interspersed with the recipes are short essay-style articles. These explain elements of Japanese vegetarian cuisine. They include the intricacies of how to prepare a bowl of miso soup from its four basic elements, the healing qualities of rice porridge, the tradition of gently drying vegetables in the sun. Also Hachisu's own experiences traveling Japan in search of authentic ingredients, from the 150-year-old beer he produces mirin, to the production rooms of a local producer.
In the book we will find icons in each recipe that they represent. That is, if the dish is vegan, gluten-free, nut-free, dairy-free, with less than 5 ingredients, and dishes that can be prepared in less than thirty minutes.
In her introduction, Hachisu reminds readers to seek peace and approach food in the proper way for one's life. Although he does not practice Zen Buddhism, in his kitchen he follows four maxims:
1-Take your time and cook with precision.
2-Enjoy the ingredients.
3-After a meal, you should not feel too full, but rather refreshed and somehow satisfied.
4-Look into your heart through food.
These sayings are incorporated into all of Japan's simple, delicious, and authentic recipes.