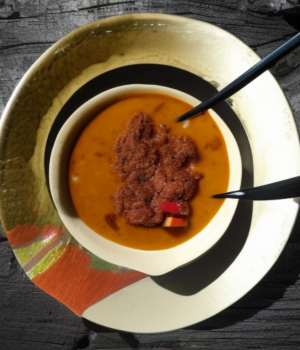 Kumache or kumachí is a sauce obtained from cassava, its appearance is dark, its flavor is between sweet and sour and its preparation is somewhat risky.
Kumache is a sauce that is generally used to dress fish or grilled meats. In the elaboration of the tumá, for example, a characteristic stew of the Venezuelan gastronomy, you can not miss this peculiar sauce. We say that kumache is a dangerous sauce, both to prepare and to consume, but why?
The first of the reasons why we say that kumache is a dangerous sauce is because only some indigenous Venezuelans of the Pemón ethnic group prepare it. They obtain the dressing from a slow chemical process that lasts between eight and seventy-two hours in which the bitter yucca is cooked and fermented. This cooking causes the cyanide contained in the fruit to disappear and an edible liquid that is called kumache or kumachí, a dense and bitter sauce, emerges from it. Its flavor is comparable to that of oyster sauce or soy sauce but with a touch between sweet and sour. Its color is dark brown with golden tones, similar to caramel and can be added to sweet and savory dishes.
The kumache, an adventurous condiment that arrives in the city.
It should be noted that the preparation of this dressing is not easy and only the Pemón have the key to do it, although some chefs such as Carlos Piccinoci They have dared not only to make it, but also to incorporate it into their dishes.
Eating kumache in a different way than pemones can even be deadly due to its high cyanide content. We cannot forget that kumache is a risky sauce and that its cooking and fermentation process are essential for obtaining the seasoning. In addition, after this process it is also essential to add fish powder, bachacos (an ant that gives the sauce a spicy touch) and chili pepper. Knowing all this now, would you dare to try it?